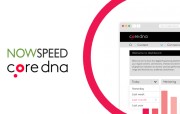 Boston, Massachusetts, March 1, 2016 (Newswire.com) - ​​​Core dna today announced that Nowspeed, an industry leading digital marketing agency, has selected Core dna's Digital Experience Platform (DXP) to expand its digital offering to customers.
The Core dna DXP enables agencies to quickly build, deploy, and manage complex websites.  As a new, approved Core dna agency partner, Nowspeed augments its current digital offering with ready-built enterprise-level applications, world-class design and a user experience that delivers on clients' increasingly demanding requirements.
The Core dna DXP is based on object-based content management with applications like Pages, Blogs, E-commerce and Events integrated seamlessly into the one website with a slick back-end. Nowspeed's clients will benefit from enterprise-level security, speed-to-market and single login content management to make complex sites simpler.
"Core dna's Digital Experience Platform allows Nowspeed to offer clients an intuitive platform to manage all of their digital assets and marketing efforts from one login," said David Reske, Founder and President of Nowspeed Inc. "Our agency can now extend a greater technical offering of world-class functionality and services to our clients."
Core dna enters Boston market
Australian software company Core dna expanded into the North American market in 2015 with the opening of its Boston office. North America currently dominates the global Web Content Management market, accounting for "60% of worldwide revenue," according to technology research firm Gartner. Core dna has entered the market to disrupt the current website development approach.
Sam Saltis, CEO of Core dna, said, "In the last 12 months we have seen a significant increase in the level of interest and number of enquiries from the USA and Canada, as well as the on-boarding of trusted partner agencies. The opening of the Boston office allows Core dna to deliver the same level of dedicated local support and service as it does to its Australian partners to those based in the USA."
About Nowspeed
Nowspeed was founded in 2003 and is focused on delivering world-class digital marketing services to clients across the United States. Nowspeed is the true "one stop shop" to help you build and optimize your digital strategy. Nowspeed's work spans Search Engine Optimization, Web Design and Development, Social Media Marketing, Email Marketing and Content Marketing as well as a number of other services. For more information visit http://nowspeed.com/.
About the Core dna DXP
Core dna DXP (Digital Experience Platform) is a SaaS website platform that helps agencies build, deploy, and manage complex websites. The Core dna DXP has been operating in Australia for over 15 years, and expanded into Boston in 2015. Customers on the Core dna DXP include Nintendo Australia, Frontier Touring, Freedom Foods, and Tribeca Flashpoint College.
###
For more information, press only:
Alec Schidlovsky
+1 (617) 274-6660
alec.schidlovsky@coredna.com
To request a demo of the Core dna DXP:
https://www.coredna.com/schedule-a-demo
For more information on the Core dna DXP:
For more information on Nowspeed:
Share: