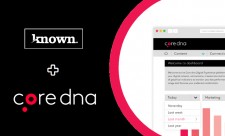 Award winning digital agency known.creative to expand digital offering with Core dna's Web Application Platform.
Boston, Massachusetts, December 20, 2016 (Newswire.com) - Today, Award winning creative agency known.creative (known.) announced it will be adding Core dna DXP as its strategic platform. known. will now offer a host of digital solutions including marketing, e-commerce, intranets and community portals on top of its existing creative offerings.
Creative agencies today must deliver more than just the creative. The team at known. realizing this undertook an extensive research and comparison process to identify platforms that would meet its customers current and future needs. With over 80 pre-built applications and an end-to-end technology stack, Core dna was the right fit, enabling known. to scale without the need to invest heavily in technologists.
Jeremiah Louf, Co-Founder and Creative Director of known.creative commented, "Our company has grown rapidly with a focus on truly understanding our customer's needs. Core dna provides the foundation for known. to create digital experiences that convert. Using the pre-built e-commerce solution, we can now deliver sophisticated commerce solutions that allow us to focus only on the core of our agency, creating a powerful & intelligent brand and marketing strategies with beautiful creative. The team at Core dna provides us the support and the experience to deliver on our client promises."
Alec Schidlovsky, Manager of Channel Sales North America at Core dna added, "We are thrilled to be supporting a creative agency like known. with its growth plans. Core dna will allow Known to produce far more technical solutions and compete for larger customers in the market. Our team is also working closely with the company to help them pitch and close opportunities."
About Known Creative
known.creative is a digital agency located in Salem, MA that focuses on crafting powerful brand & marketing strategies with a modern approach. We execute across several disciplines that include research, brand creation, design, development, marketing and digital advertising. We consider all of this digital strategy.
About Core dna
Core dna DXP is an all-in-one web application platform that enables enterprises to better manage web content, events, franchises, multi-site and e-commerce as well as overall presence with unprecedented ease of use at a set monthly price. A full description of its features and capabilities is listed here. Founded in 2000, Core dna has been operating in Australia for over 16 years providing global support to clients that include Nintendo, Staples, Louis Vuitton, and expanded into North America last year. Today, more than 500 businesses rely on Core dna to manage their digital assets and online operations. For more information, visit www.coredna.com and follow @coredna.
Contacts:
Alec Schidlovsky

+1 (617) 274-6660

          Rick Dolan

         +1 (781) 267-6833

         rick@known-creative.com
Source: Core dna Services Inc.
Share: