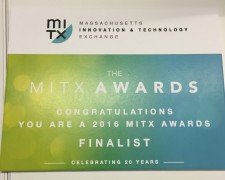 Boston, Massachusetts, April 7, 2016 (Newswire.com) - Core dna today announced its All-in-one Digital Experience Platform (DXP) has been selected as a finalist in the Best "Newbie" Technology category for the 20th Annual MITX Awards. Held annually by the Massachusetts Innovation & Technology Exchange, the awards recognize excellence in concepts and creations in marketing and technology produced or developed in New England.   
Since 1996 the MITX Awards have grown to become the largest and most prestigious awards competition in the country showcasing the best creative marketing and technological accomplishments emerging from New England. This year over 120 senior leaders from Boston businesses judged entries for the 33 MITX award categories.
"For 20 years, MITX has been celebrating the talented and creative minds across New England - innovators that have made this the thriving technology and innovation hub it has become," said MITX President Amy Quigley. "This year's finalists are no exception. The ideas keep getting bigger and bolder. We are thrilled to honor their amazing achievements!"
SaaS Software company Core dna expanded into the North American market in late 2015 with the opening of its Boston office. North America currently dominates the global Web Content Management market, accounting for "60% of worldwide revenue," according to technology research firm Gartner. Core dna has entered the market, bringing its all-in-one website platform to provide an alternative to the current design, build and destroy approach to websites.
Sam Saltis, CEO of Core dna, said, "The content management market has remained the same for the last 20 years. We believe it is time for a change where clients move from the current capital expenditure model to a consumption based model. With Core dna we plan to help agencies deliver great outcomes for their clients, increase profitability and maintain long lasting relationships."
Core dna will be recognized with the other finalists in the category of Best "Newbie" Technology at the 20th Annual MITX Awards Ceremony traditionally attended by over 1,000 of the region's top marketing, technology and design professionals. Winners will be announced at the ceremony on May 25th at the Westin Waterfront. This year's ceremony will include host, Boston legend and comedic superstar Lenny Clarke, technology demos from finalists, select final round judging, networking, and of course, the presentation of the prestigious MITX Awards. Tickets can be purchased at www.mitxawards.org.
About Core dna
All-in-one Digital Experience Platform (DXP)
Core dna's All-in-one DXP (Digital Experience Platform) is a SaaS website platform that helps agencies build, deploy and manage content, marketing, eCommerce, Intranet and community websites for their clients. The Core dna DXP has been operating in Australia for over 15 years, and expanded into Boston in 2015. Customers on the Core dna DXP include Nintendo Australia, Frontier Touring, Freedom Foods, and Tribeca Flashpoint College. For more information, visit http://www.coredna.com/.
About MITX
Inspire. Connect. Provoke.
For the restless companies that comprise the Massachusetts technology and innovation eco-system, MITX is the ultimate resource: inspiring members with progressive thinking, meaningful connections and provocative conversation. Celebrating 20 years of connecting tech and innovation professionals in New England, MITX is a dynamic community of more than 7,500 thought leaders and collaborators in search of insight, education and opportunity. MITX is headquartered in Boston, MA. For more information, visit http://www.mitx.org/.
Contacts:
Core dna​​ - Alec Schidlovsky, 617-274-6660, alec.schidlovsky@coredna.com
MITX - Brianna Allard, 617-871-2155 x703, ballard@mitx.org 
Share: